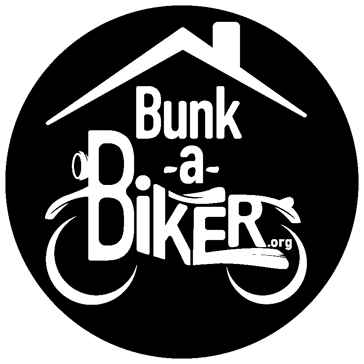 Zoom by pinching the screen on your mobile or using the "+" and "-" buttons on desktop to the area that you wish to find a host.

Click the pin to view what the host offers and how to contact them.

The pin colors mean: Green - outside space. Red - inside space. Purple - both inside and outside. Blue - local information or break down assistance only. Yellow - no info. Black - DO NOT CONTACT.

Use either the email or number to begin arrangements. We recommend a text message in the USA/Canada and email or Whatsapp in the rest of the world.

Begin your email or text with mentioning Bunk-a-Biker, your name, and what days you're looking for accommodations.

Be forthright in how many people are in your party and what motorcycle you are riding.

Be prepared to offer links to your social media if asked, and possibly friend them if your profile is private so they can learn about you.

Collect references. If you've been hosted before, get names and numbers from them to vouch for your character.

Don't try to use the map to get routes as it's not designed to do that. You will have to copy the addresses over to Google Maps or whatever your navigation choice is.
If you are signed up to contribute to BaB on Patreon you will have access to the Google Map that will load into your app. Sign up here --> www.patreon.com/bunkabiker
Below is a Google Advertisement.