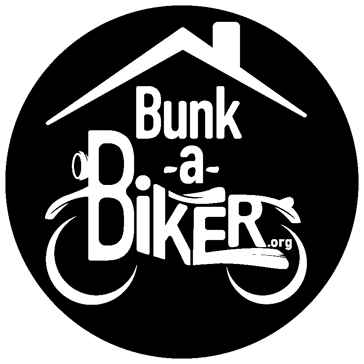 You can check out these videos, blogs, articles, and podcasts made by our amazing BaB community members below! None of these have paid to be here, this is simply our way of saying "thanks!" for sharing BaB through their content. (Click on the logos to go to these podcasts and YouTube channels!)
Are you interested in hearing what people who've experienced Bunk-a-Biker have to say?
From Kris Fant of Women ADVRiders:
https://womenadvriders.com/get-going/bunk-a-bikerl-zee-traveler-tells-all/
From Mark McGhee of Motorcycle Times:
https://www.motorcycletimes.com/2021/09/10/bunk-a-biker-do-you-know-what-it-is/
From Brittany Morrow for Russ Brown, motorcycle attorneys:
https://russbrown.com/bunk-a-biker-changing-the-way-riders-travel/
From Chris Smith of Moto Photo Adventures:
https://motophotoadventures.com/tag/bunk-a-biker/
From FitHippie Adventures:
https://fithippie.blog/2022/06/09/east-coast-couchsurfing/

We always appreciate members who create content to help share Bunk-a-Biker with other riders but we do not appreciate any publication that doesn't contact us to get accurate information or that uses BaB as a way to promote themselves. This is a community and it's purpose isn't to be a stepping stone for fame. So please be respectful with what you make and reach out if you have any questions!
The article on RideApart by Janaki Jitchotvisut. If you come across that article, do not believe anything about Bunk-a-Biker in it.
If you're a reader, check out these articles about BaB!
Poor Representations of Bunk-a-Biker
YouTube videos by channels without logos:
Below is a Google Advertisement.