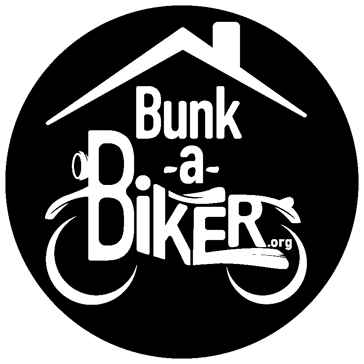 Frequently Asked Questions
Q: What is Bunk-a-Biker?
A: Bunk-a-Biker is a worldwide community of motorcycle riders who offer to host traveling riders at their homes for free. The idea isn't for a free place to stay, it's for building and promoting an uplifting, positive, and supportive community where you can meet your fellow bikers. (or simply, it's like CouchSurfing for bikers)

Q: How much does it cost to use Bunk-a-Biker?
A: It is free to use and will always be free to use. If any hosts try to charge, please report it HERE.

Q: Where is the map?
A: The map can be found at: https://www.zeemaps.com/bunk-a-biker_world It's a normal webpage so it's recommended that you 'bookmark' or 'favorite' it on your web browser.

Q: How do I save the map for quick access?
A: Simply add "https://www.zeemaps.com/bunk-a-biker_world" to your bookmarks on your preferred internet browser. (Safari, Chrome, FireFox, Internet Explorer, etc)

Q: Why doesn't Bunk-a-Biker have an app?
A: Being a free platform, there is no money to invest into having an app developed. Zee doesn't have the knowledge, or time, to design one herself but would be happy to work with anyone who could help.

Q: Why can't I do route planning on the Bunk-a-Biker map?
A: The map host, ZeeMaps, is a paid service that stores all the information for each host. They don't offer navigation on their maps and thus we are limited to the way they're designed.

Q: How do I use the map as a guest?
A: Open the map in a browser (preferably not through Facebook), scroll to the area where you're looking to stay, click a pin, verify it works for you, then contact through the provided methods. If you have to search around, make sure to use the map "back" button and not the browser "back" button.
www.zeemaps.com/Bunk-a-Biker_World Click here for more info on how to be a BaB guest.

Q: How do I add myself to the map to be a host?
A: It's recommended to read this article on how to be a host then click here for step-by-step instructions on how to add a pin to the map. If the map options don't load, try another web browser. (Facebook often won't load it correctly)

Q: Why is my pin not showing up on the map?
A: This could happen for a number of reasons. If you recently submitted to the map and got the message "your pin was submitted for approval", it will be approved in 1-10 days. If you didn't receive that message, you didn't fill out the form properly and the map didn't take your submission. Make sure you added an email, phone number, and that it accepted the location you provided before trying again. If you didn't fill out the form with all the information, you'll receive an email from bunkabiker@protonmail.com

Q: Do I have to also be a host if I want to be a guest?
A: Absolutely not. It takes all kinds to make a community like this so that means people who can host and people who are mostly guests. You can do neither, either, or both.

Q: Can I be a host if I don't ride or own a bike anymore?
Absolutely, you can be a host! Many hosts can't ride due to age or health but it doesn't mean that you can't be a part of this community.

Q: Can I use BaB if I'm not on a bike?
A: We prefer people to be riding when using Bunk-a-Biker. If you're hauling bikes, you can directly contact hosts to see if they are willing and able to accommodate you though.

Q: How can I stay safe as a guest/host?
A: There's many suggestions on this matter for hosts HERE and guests HERE.

Q: What can I ask from my guests when they stay at my house?
A: You may ask whatever you want from your guests except payment for staying. Some acceptable things to ask for are a picture of their drivers license, advanced notice, for them to bring all their own supplies, no smoking, no drinking, to be ready to leave at a specific time, etc. Be openly communicative so both you as a host and your guest know exactly where the boundaries are set. More info can be found HERE.

Q: Why doesn't Bunk-a-Biker have a rating system?
A: The first reason is that people don't fairly review and to have someone's home negatively rated for being cluttered or messy due to things like children or pets would not be fair. The second reason comes down to cost, and an advanced website that could do that is too expensive. Bunk-a-Biker is free and is supported by Patreon subscribers or donations while the rest comes out of Zee's pockets. All the time put into running it is basically community servitude.

Q: Who founded and runs Bunk-a-Biker?
A: Kjetil Lystad from Norway founded Bunk-a-Biker and in June of 2019, Zee Traveler offered to help Bunk-a-Biker start growing again after an inactive period. She now runs it. Read the top of this page for a more detailed backstory on BaB.

Q: Why don't we do a registration system or record driver's licenses to vet the hosts/guests?
A: The first reason is again, the cost. The second reason is that there's a lot of laws around safeguarding private information that's stored online. The third reason is that just because we took their photo doesn't mean they're safe. It's a false sense of security I don't want anyone to rely on. It's up to each Bunker/Bunkee to evaluate who they meet and decide whether they are safe. Everyone is always encouraged to get details about their hosts and guests for their own peace of mind, publicly announce who they're staying with, and to inform their family where they'll be.

Q: Why isn't the map pinned at the top of the Facebook group?
A: It is but because we can't change the way Facebook functions, we can't do anymore to make it noticeable than we already have.
Who manages Bunk-a-Biker today?
While Kjetil started Bunk-a-Biker, he passed the baton to Zee Traveler in 2019.
Top Left: Current CEO and owner of Bunk-a-Biker, Zee Traveler.
Top Right: Manager for Bunk-a-Biker, Jesse Gamez.
Bottom: Former CEO and original found of Bunk-a-Biker, Kjetil Lysted.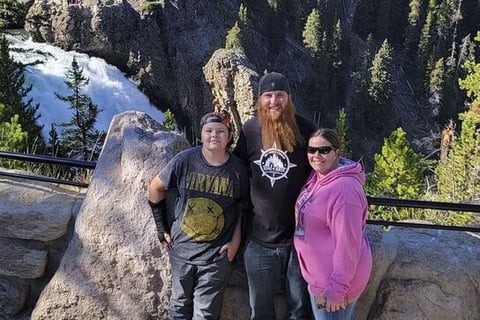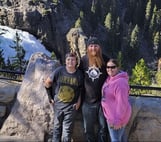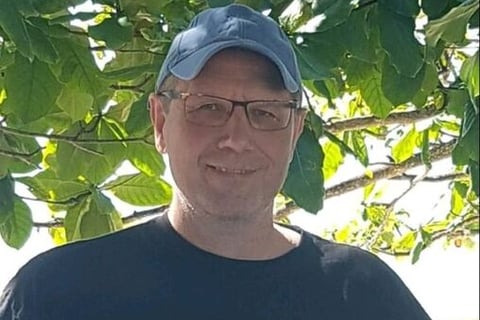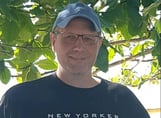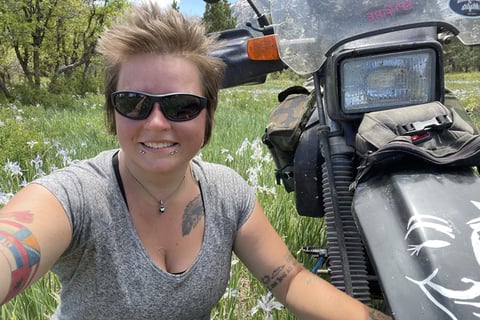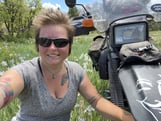 Bunk-a-Biker; A Brief History
Bunk-a-Biker was thought up in 2014 by Kjetil (Che-tyl) Lystad of Oslo, Norway and who still resides in Sarpsborg, Norway. Kjetil would offer his place to friends that were riding through and before long, his name started to get passed around to other riders. So began the idea to start a motorcycle-specific group similar to CouchSurfing, which had become popular worldwide. "Screw it, let's make this group be for all bikers to unite under the idea of offering their place to their fellow riders who traveled through," he said. The name "Bunk-a-Biker" quickly popped into his head, catchy and simple, and he began promoting it locally and to his friends. On February 2nd, 2015 he started the first Facebook group, 'Bunk-a-Biker Norway', then it was followed by the Facebook page of the same name on October 15, 2016. The ball was rolling and members were offering to start and run branched-off local groups for Denmark, Sweden, Australia, the US, and so on. Unfortunately not long after, Kjetil began having health issues and needed to focus on his personal issues so the ball of momentum for BaB slowed down and eventually came to a halt by mid-2017.

In June 2019, Zee Traveler approached Kjetil with an offer to re-kindle Bunk-a-Biker into an active, healthy, and well-maintained resource. Zee is an ambitious community leader, having gotten her start in February of 2016 with her founding group "Minimalist Motorcycle Vagabonds", that was a flourishing and supportive community to be a part of. She's also a passionate traveler who's been living on her bike for years and adores the idea of using her time and skills to help Bunk-a-Biker grow. Due to a motorcycle wreck, she had six weeks that she couldn't ride and decided to spend that time helping build up another community that could help all traveling riders, from the average rider to the famous world travelers. Instead of starting her own, she reached out with the offer to BaB, and Kjetil was excited to find someone that shared his same vision of what BaB could be given the right dedication. Her reputation as a traveler and admin of MMV preceded her and soon people were happy to see activity in the groups again.

While Zee had been a member of Bunk-a-Biker US since May 12, 2017 and an admin of the group since April 21, 2018, she was unable to help much due to the map service of choice, ZeeMaps (unaffiliated), changing policy and charging a monthly or yearly fee for a map. Bunk-a-Biker's core needed to have a map for members world wide to use and with the financial backing of a few loyal fans of MMV throwing in a couple dollars a month out of gratitude, the map service was paid for. To this day, Patreon supporters help with the cost of the map, website, podcast, domains, and time spent running BaB. (Click here to see how to support the community.)

From June until December 2019, it took considerable time to get the Facebook page and groups linked up, information about the network standardized, a logo designed, and the website created and filled with information. Up to this day, Zee still spends much of her time helping members learn to use the map, making sure the map data stays organized, running the infrastructure on multiple social media platforms, marketing, giving interviews, and explaining what Bunk-a-Biker is to anyone who will give her a minute of time. It's a ton of work to keep BaB running smoothly but Zee's fortunate to have many amazing people who volunteer time to help manage the Facebook activity and assist with other projects. It's a community effort to keep this community going.

With US, Canada, and Europe doing well with activity and hosts, Zee is now focused on bringing awareness of the network to Asia, Australia, Central America, South America, and Africa. So if you have any tips on great people to talk about in these countries to spread Bunk-a-Biker, please reach out! Also feel free to contact Zee if you're interested in interviewing her for your podcast, YouTube, or article. If you have an offer to exchange advertising on BaB's website with your own, she is also interested in discussing those opportunities.

Please share Bunk-a-Biker with all the cool people you know!

Zee Traveler
BunkaBiker@protonmail.com
Below is a Google Advertisement.